"The question isn't who is going to let me; it's who is going to stop me."
~ Ayn Rand
Ayn Rand is best known for her novels, The Fountainhead (1943) and Atlas Shrugged (1957). She was a bold woman who confidently intertwined philosophy with her novels. Her daring criticism of irrationalism was known the world over, and she even went on to appraise powerful leaders, from the Popes to the Presidents.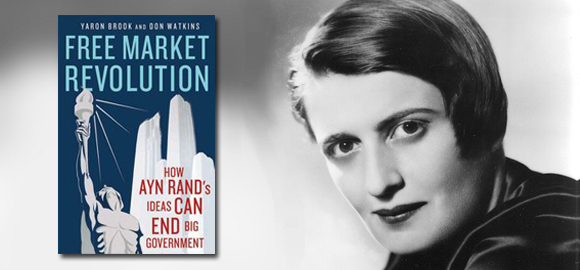 Ayn Rand: Her Early Life
Hailing from the petite town of Saint Petersburg, Rand was born as Alisa Zinov'yevna Rosenbaum, on February 2, 1905. Rand found schooling relatively unchallenging and developed her talent for writing novels even before she hit the age of ten.
At the age of 12, the comfortable family life she grew up in was disrupted, subsequent to the infamous October Revolution in Russia. The family had to flee to the Crimean Peninsula, with nothing but the shirts on their backs.
Ayn Rand: Education and Career
After the October Revolution, women were finally allowed to study in universities and Rand was amongst the first group of women at Petrograd State University, bringing the family back to Saint Petersburg. At the age of only 16, she began her studies in social pedagogy. She went on to study Screen Arts at the State Technicum, Leningrad, where she came up with her pseudonym, Ayn Rand.
On February 19, 1926, Rand arrived in New York City and was immediately mesmerised by the Manhattan skyline. Intent on 'living the American dream,' she set out for Hollywood, California, to become a screenwriter. Struggling as a junior screenwriter in Hollywood, she met the aspiring actor, Frank O'Connor. They were married on April 15, 1929, consequent to which, she became an American citizen.
Ayn Rand: The Novelist
Rand's success began with the sale of her screenplay to Universal Studios in 1932. The road after this had a few ups and downs. Nevertheless, she finally got her biggest break, after many an attempt, with her novel The Fountainhead, in 1943. It went on to becoming a worldwide success. With this, the politically active Ayn Rand finally achieved fame and financial security.
In the years following the publication of The Fountainhead, Rand moved from Los Angeles to New York City, where she began writing her next novel while also living an active political life. Atlas Shrugged was published in 1957. The novel advocated the beliefs of Rand's philosophy of Objectivism, expressing her concept of human achievement. Politics gave her the stage that she needed to voice her opinions, and she did exactly that, without any inhibitions.
Atlas Shrugged was her last completed work of fiction, and greatly influenced her to turn to a different path. She left her career as a novelist and began her role as a popular philosopher, a turning point in her life.
Ayn Rand: The Philosopher
The 1960s and 1970s saw Rand develop and promote her Objectivist philosophy. She began her nonfictional works, which grabbed her audience in rapt attention. Students at institutions and Ivy League universities were eager to get a chance to attend her famous lectures.
She described her philosophy of Objectivism as "the concept of man as a heroic being, with his own happiness as the moral purpose of his life, with productive achievement as his noblest activity, and reason as his only absolute." She considered Objectivism to be a methodical philosophy and went on to comment on metaphysics, epistemology, ethics, political philosophy and aesthetics.
Rand's works have evoked both extreme praise and denunciation. She paid heed to neither and kept her focus on the life ahead and evolving her philosophy. Ayn Rand has been in the spotlight for being amidst American controversies, for which she was celebrated by her admirers.
"I am often asked whether I am primarily a novelist or a philosopher. The answer is: both. In a certain sense, every novelist is a philosopher, because one cannot present a picture of human existence without a philosophical framework. . . . In order to define, explain and present my concept of man, I had to become a philosopher in the specific meaning of the term."
~ Ayn Rand