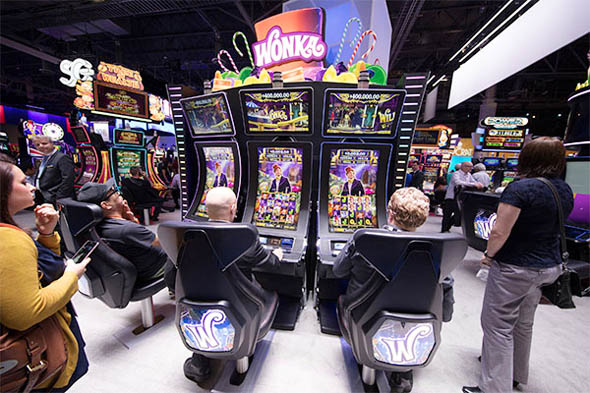 In October every year, gaming manufactures, operators, players and other stakeholders of the gaming fraternity gather in Las Vegas, Nevada to attend the Global Gaming Expo (G2E). The event is organized by the American Gaming Association with the aim of providing a platform to showcase the latest gadgets, technology and games for casinos. Discussions are held on the various challenges being faced by the gaming industry and experts share their insights.
The floor at Global Gaming Expo 2018 looked like a casino, with slot machines and table games. Interesting discussions were held on sports betting. The Global Gaming Awards and Casino Entertainment Awards were also announced in various spheres of the gaming industry.
With over 450 exhibitors presenting their new games and products, the event was attended by more than 26,000 gaming professionals from across 110 countries. Here are some of the most exciting parts of the event.
Sports Betting Kiosks
Betting kiosks are common among sports bettors in Europe. Golden Nugget has already installed betting kiosks in Mississippi and New Jersey. IGT presented different versions of its PlayShot sports betting kiosks at the G2E. The full-sized PlayShot kiosk can adapt to IGT's Cardless Connect mobile loyalty club systems so bettors can receive players club points for their bets. A lot of sports betting companies are waiting to offer their machines in the US once bills are passed by different states.
Discussion on Sports Betting
Sports betting was the focus of multiple discussions, where notable members of the industry expressed their views on the fast-evolving landscape. Many key speakers highlighted best practices and spoke of the many challenges still being faced by sports betting companies.
Among the most notable speakers at the G2E were Scott Van Pelt of ESPN and Sara Slane of AGA, who expressed their thoughts around the Future of Legalized, Regulated Sports Betting in the US. A special event, named The Business of Sports Betting, was hosted by Van Pelt, where Kenny Gersh, VP of MLB, engaged in an exciting debate related to integrity fees and Leagues having the right to charge sportsbooks for data.
In-Play Betting Terminal
In-play bets take place while the event or game is under progress. This type of betting is very popular in Europe and is in its nascent stages in the US. At the G2E, IGT launched its CrystalBetting Terminal for in-play sports betting. It offers in-play betting inside casinos without using a mobile phone and is able to place bets very quickly. The hyper-focused screen allows bettors to watch games and place their bets accordingly. These machines are yet to undergo trial to receive regulatory approval.
Blackjack Burnout
Every year new, variations of games are displayed at the G2E. Some don't make it to the floor of the casino, while others have a short span of floor life. This year, all eyes were on the Blackjack Burnout, a game developed by Angel Espino (owner of Casino Gaming Development based in Colorado). As the name suggests, it's a variation of blackjack. Although it is played with the regular blackjack rules, it offers a second chance of winning to the player for a fee. This game can be currently played at the Twin Pine Casino Hotel in California and Saratoga Casino Blackhawk in Colorado.
Many more such events need to be organized, where veterans of the gaming industry can share their knowledge and innovative companies can showcase their latest machines that give players unique experiences.