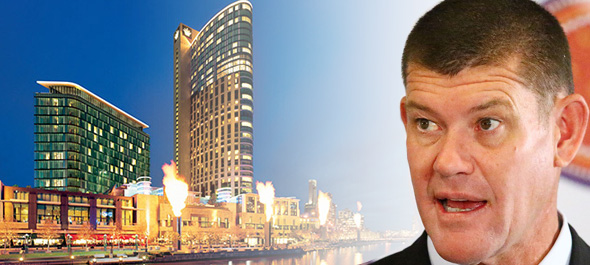 Let's say Hello to the Ninth Richest Australian of 2017, James Packer!
With a net worth of US$3.9 billion, Packer has made a name for himself in the gaming and entertainment business by launching Crown Resorts Limited. In June 2015, this business had a market capitalization of over A$7.5 billion. This speaks volumes about the achievements of the man who has redefined the world of entertainment through his various stakes in the casino business. He owns a 33.7% stake in Melco-Crown (MCE), a Macau-based gaming company that attracts thousands of visitors every year. MCE owns two premium investments in Macau, the Altira Macau and the City of Dreams.
Life and Education
James Packer was born on September 8, 1967 in Sydney, Australia to Kerry and Ros Packer. He did not pursue higher education after completing his high school certification from Cranbrook School in Sydney.
Packer's Illustrious Lineage
Without taking anything away from Packer'sachievements, which are nothing short of impressive, he did have it somewhat easy, thanks to his illustrious lineage. His father, the Late Kerry Packer was an Australian billionaire of incredible standing. Kerry Packer was regarded as one of the most influential men in Australia at the time of his passing in 2005. He was a media mogul and the man behind Nine Television Network and a publishing company called Australian Consolidated Press. Both the entities were later merged to form Publishing and Broadcasting Limited (PBL). Kerry Packer is also known for his defiance in world cricket when he set up World Series Cricket, a breakaway professional cricket competition, and managed to rope in the likes of Tony Greig, Imran Khan, Greg Chappel and Clive Lloyd. Kerry Packer was a great mentor to James during his formative years and played a significant role in teaching him the art of entrepreneurship.
Passion for Sports
You cannot take rugby out of an Australian, can you? The case with James Packer is no different. His passion for the game made him take a 37.5% stake in a rugby league club that goes by the name of South Sydney Rabbitohs. According to The Australian, Packer's close friend movie actor Russel Crowe also owns a similar stake in the club. Both Packer and Crowe ended up writing-off a loan of $7 million given to the club.
Mastering the Art of Giving
Packer's philanthropical pursuits are well-known. He was instrumental in setting up of The National Philanthropic Fund, considered to be the biggest corporate philanthropy endeavor in Australian history. Set up in July 2014, the fund has committed on record to pump in $200 million into various charities till 2024. One of the fund's major contributions was a charity of $200,000 to a renowned Sydney charity worker Reverend Bill Crews for teaching Aboriginal children in Darwin to read.
James Packer has had quite an illustrious run himself. He is someone who never felt content with the media business that his father and grandfather so successfully ran. He could have just carried away with the businesses he inherited and still led a fruitful life. Such people are not driven by a comfortable life, but by a passion to achieve something bigger. Packer has taken forward the family legacy of being successful entrepreneurs in the truest sense of the word. This man, who is now more than 50 years old, still seems to have laurels lying ahead.