With Forbes estimating his net worth as $39 billion in January 2014, Sheldon Adelson is undoubtedly the most successful entrepreneur the casino industry has ever seen. A college dropout, who went on to become a self-made multibillionaire, Adelson is also known for his philanthropic pursuits.
While Forbes has ranked Adelson as the 5th richest American, Bloomberg puts him in the 9th position among the richest people in the world. So, what makes Sheldon Adelson the success he is today?
Adelson – The Early Years
Born to an Ukranian Jewish family, Adelson spent his early years as a poor immigrant in Dorchester, one of the largest neighborhoods in Boston, Massachusetts. He started earning at a very young age, first selling newspapers on street corners and later owning his own business by the age of 12. This only goes to demonstrate a strong desire to rise above one's circumstances.
I strongly believe that what actually differentiates an extraordinary human being from an average one is his foresight and perseverance. This is exactly what we see in Adelson, as he works as an investment broker and a financial consultant in his youth, bringing more than 50 companies to maturity. One success story from this phase of his life is COMDEX, a tradeshow developed by Adelson for the computer sector. Under his guidance, Adelson took COMDEX to more than 20 countries, making it the largest tradeshow of its kind in the world.
Adelson – The Success Story
Sheldon Adelson bought the Sands Hotel and Casino in 1989. This was the erstwhile hangout for some of the biggest names of their times, such as the Rat Pack and even Frank Sinatra. Adelson aimed to bring about a new era of business centricity to Las Vegas through the exhibition industry. With this in mind, he opened the Sands Expo and Convention Center, the only privately owned and operated convention center in the US, in 1990.
During his honeymoon in Venice, in 1991, Sheldon Adelson was inspired to build a mega resort hotel in Las Vegas. He did this by converting the Sands Hotel and Casino into a Venetian themed resort hotel and casino worth $1.5 billion – The Venetian Resort Hotel Casino. This luxurious, all-suite resort destination was the first of its kind in Las Vegas and completely changed the face of the hotel industry in the city. It has, since then, received numerous recognitions and awards both for its architecture and for being among the finest hotels in the world.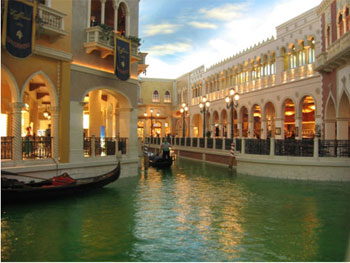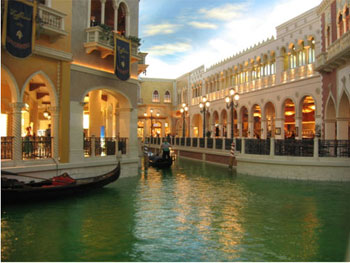 From here, Adelson's journey has been one of growing from strength to strength. In 2003, he added the Venezia tower to The Venetian, a 1,013-suite affair with 18 world-class restaurants and a mall replete with canals, gondolas and even singing gondoliers!
In 2004, he opened the Sands Macao in the southeastern coast of China. The Sands Macao was fitted with everything one could think of in luxury, from suites to specialty restaurants, a gaming facility that spread across 163,000 sq ft, as well as an international VIP club. Macao soon earned recognition as the gaming capital of Asia.
Adelson then went on to replicate this success in Singapore, with a casino resort at Marina Bay, Singapore.
Sheldon Adelson's initial public offering of Las Vegas Sands Corp on the NYSE was one of 2004's most anticipated IPOs, with the stock rising 61% on its opening day. Today, Sheldon is known as the Casino Mogul, a business visionary and a dynamic entrepreneur.
With a career that has spanned more than 50 years, Adelson once told ABC News, "I started out with zero… (there is) no such thing as fear, not to an entrepreneur. Concern, yes. Fear, no." In 2013, Forbes gave Adelson a top ranking on its Annual "Biggest Winner" List, after the success of his Macao and Singapore ventures added about $15 billion to his net worth through the year.