He is 91, and is called the casino mogul of Macau, an administrative region of the People's Republic of China. Stanley Ho Hung-sun, the man who fought all odds, survived a family bankruptcy and war, now called as the richest person in Macau. It is estimated that, this university dropout now owns enterprises that employ almost one fourth of the workforce of Macau. Married to four women and a father of 17 siblings, this enigmatic billionaire owns a multi-billion dollar casino empire that has influenced almost every part of the former Portuguese colony on China's southern coast.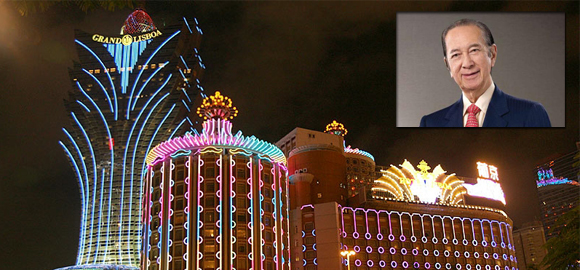 Early life, Struggle and Personal Tragedy
Born on November 25, 1921 into the Ho Tung family, one of Hong Kong's most powerful and respected clans, Stanley Ho had to face acute hardship and struggle since his childhood. At the age of 13, he saw his father, Robert Ho-Tung turn bankrupt in a stock market crash. His father abandoned the family bringing a dark trail of events to his life. Two of his brothers committed suicide.
Ho studied at Queens College, Hong Kong. He attended Class D, the lowest level in the then followed class system in Hong Kong.  Though his academic results were not satisfactory, his attentive hard work paid off and he soon became the first class D student to earn a scholarship to the University of Hong Kong. The outbreak of World War II soon interrupted his university studies and he along with the family fled from the Japanese troops only to settle in Macau.
Building Career and the Casino Empire
Stanley Ho started his professional career at a Japanese-owned import-export firm in Macao. Soon, at the age of 22 his entrepreneurial flair led the firm to make him a partner. He opened up a kerosene company in 1943 and earned profits from the post-war construction boom in Hong Kong.
He invested his profits and won the public tender for Macau's gaming monopoly at a cost of approximately $410,000 replacing the longtime casino barons of Macau, the Fu family. The company was renamed in 1961 as Sociedade de Turismo e Diversões de Macau, S.A.R.L. (STDM). The same year, the Shun Tak Holdings Ltd was set up. One of his subsidiaries, TurboJET, owns one of the world's largest fleets of high-speed jetfoils, which ferries passengers between Hong Kong and Macau.
Business, Politics and ahead
Over the years Ho invested in diverse businesses.  Whether you want a plane or ferry ride to get to Macau, or wish to check into a new luxury hotel on the gaming heaven or even plan to dine at a star restaurant in the city, you will find a Stanley Ho hallmark everywhere. There is no other city where a single family such as the Ho's has such a high concentration in an industry. Mr Ho owns 15 of the 18 casinos in Macao, including the Lisboa, the world's highest grossing casino. He also owns the ferry and helicopter services that transport millions of tourists to the Macau from Hong Kong. Mr Ho has brought about a revolution in the casino and business, which now accounts for half of its GDP. He is estimated by Forbes magazine to have a personal worth of over $4.8 billion.
When Macau was returned to China by Portugal in 1999, Mr. Ho actively participated in the joint advisory committee. Currently, Mr. Ho is a Standing Committee member of the 9th National Committee of the Chinese People's Political Consultative Conference. He is also the Member of the Selection Committee for the first Government of the Hong Kong Special Administrative Region.
Mr. Ho devoted much of his time to philanthropic pursuits. He also made multi-million pound donations to scholarly institutions, including a pledge of £2.5 million for a chair in Chinese history at Pembroke College in Oxford.