According to an article in The Hindu, published on January 13, 2015, Arvind Panagariya became the first Vice-Chairman of the Niti Aayog. The Niti Aayog was setup by Prime Minister Narendra Modi in an endeavour to modernise the Indian economic strategy. Prior to this, the Indian planning strategy was based on Soviet-style planning, which is now proven to be obsolete. The Prime Minister took down the 65-year-old model, replacing it with the Niti Aayog, which strives to involve every region of India in the economic development.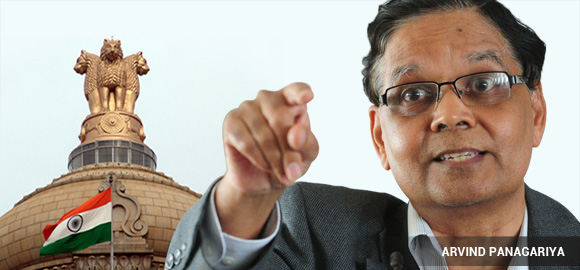 Installing Panagariya as the vice chairman is considered to be a crucial decision to ensure that the economic strategy is in sync with the mission and vision of the new government. Panagariya says, "As per the Cabinet Resolution which created Niti Aayog, strategic planning will be done. We will not think keeping in mind five-year targets rather we will think with a horizon of 7-8 years." He will be working with the Prime Minister, who will head the Niti Aayog.
So, what does this mean? Panagariya is a renowned Indian-American free market economist, widely popular because of his market views. Even before Prime Minister Narendra Modi became a Prime Ministerial candidate, Panagariya applauded the economic policies commissioned under Modi, during his tenure as Gujarat's Chief Minister. However, it is not his vocal support that made him Vice-Chairman of the Niti Aayog. His support only established that his wave-length and thought matched the views of growth held by the new government.
Why Panagariya is the Right Choice
Apart from his free market thinking, there are a few more reasons why he is the right man for the job. He has a PhD from Princeton University, and has always advocated the idea that the government must increase capital spending in order to boost economic growth. He also believes that proper functioning can be achieved only through relaxed fiscal deficit targets. He wrote a book called "Why Growth Matters", along with renowned economist Jagdish Bhagwati. The Economist magazine dubbed this book as "a manifesto for policymakers and analysts."
As a Professor at Columbia University, Panagariya advocated the free market philosophy to all his students. His experience as an educator (amongst his other acclaimed career posts) will help create promising strategies for India as well.
Growth Projectile
Panagariya's views are both pro-growth and market-friendly, and this was seen as he assisted the government prepare the budget for 2015. He said, "India needed to restore space to markets but that there was still a need for growth in social spending in a country that has about a third of the world's extremely poor." He went on to say that due focus will be given on priority to initiating banking sector reforms, boosting India's infrastructure, coal and mining sectors, and to subsidies.
The Modi Government is set to test the concept of state-run banks, hoping to stabilise the banking sector. Currently, banks across the country are submerged under a ton of bad assets. The economy had slowed down significantly, which caused this lag. According to a discussion with RBI Governor Raghuram Rajan, it is believed that by selling the government stakes in nationalised banks, these financial institutions will be able mobilise equity from the share market. This will make the process of privatisation easier, in a situation where the government might require it.
Prime Minister Modi has essentially scrapped the traditional concept of the Five Year Plan. However, the current plan (12th Five-Year Plan 2012-17) will remain intact. The Niti Aayog will use the remaining two years of the plan as a transition phase to redesign and restructure economic planning in India.