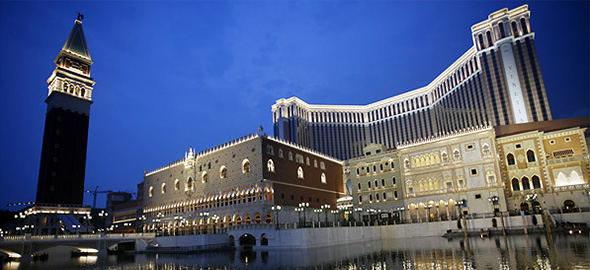 Unfortunately, Santa forgot to visit Macau in 2015. The year didn't start off too well for this gambling destination, seemed to get worse as it progressed and ended in disappointment, with revenue down 34% from the 2014 levels. So, which casino city will see a reversal of fortunes in 2016?
A January 5, 2016 article on Live Dealer compared the annual gross gaming revenues in Las Vegas and Macau over the past decade:
* 12 mths to November 2015
* converted at current USD/MOP exchnage rate. 1USD = 8MOP
Macau Down in 2015
Macau saw its gaming revenue decline to $28.9 billion in 2015, while Las Vegas had reason to celebrate, closing the year with almost $10 billion in revenue, more or less flat year on year. But then there is more than meets the eye if we only look at statistics.
Firstly, while both casino destinations saw significant declines in high roller plays, Vegas was flush with mass market players filling in where premium players dropped out while Macau struggled to fill in the gap made by lower premium customers with the mass market. Of course, it definitely didn't hurt Nevada that the US economy also looked up through the year, while China saw a slowdown in its own economy as well as that of several of its feeder markets.
Las Vegas was also helped by the decline in gas prices in the US, which led to customers have more money for discretionary spending. Its Chinese counterpart, however, is still spending on developing the city's infrastructure, including an airport and highway, which when ready would attract more tourist volumes that could help mitigate the losses from lower high roller play.
Follow the Leader?
With passing time, Macau seems to be mirroring its American rival's footsteps. The casino industry in Las Vegas operates out of the Strip and the Downtown region. However, during its development, the Strip stole a lot of businesses that had originally been planned for Downtown. We are now seeing this happening in Macau. The new and developing Cotai Strip has lured away many a business from the older downtown area.
Where the two differ is in what tourist money is spent on. Macau sees a higher number of dedicated gamblers, which is the primary reason for its revenues being higher than that of Las Vegas. However, the latter wins hands down when it comes to revenues from food, beverage and hotels. Tourists currently seem to be reserving their discretionary spending for gambling alone in Macau, while the Las Vegas market has matured into a more balanced one, with gaming only contributing one-third of its revenue.
The only aspect of gaming where the US beats China is in sports wagering and related activities. In Las Vegas, every single casino can run a sportsbook, which in turn offers opportunities for a variety of marketing events that can drive traffic. Its Chinese brother, however, has granted permission for sports wagering only to a single company, the concession for which is scheduled to expire in mid-2016.
It would be interesting to see what the Chinese government chooses to do at this time – will it open up licenses for other players in the market or extend the concession to this company? If the government takes on the former option, Macau too would offer ample opportunities for marketing events. For now, one can only imagine what it would be like if the big Cotai properties were to host world class sports in Macau. Traffic would definitely explode at this destination then, with sports betting only adding to the revenues.
In fact, if Macau wishes to follow in the footsteps of its US counterpart, it would need to diversify its revenue streams to more than just casino gaming. But first the city would need to complete its infrastructure projects and bring them on par with the best in the world. The city would also need to address and remove anti-competitive practices. If it can do all this, there is no doubt that Macau could complete take over from Las Vegas as the preferred gambling destination for the entire world.