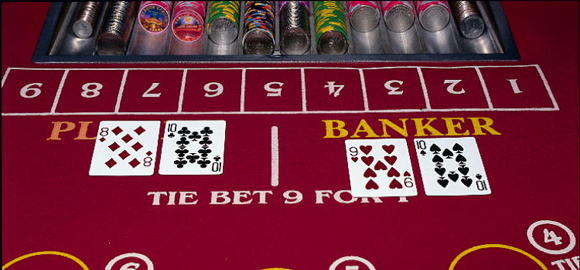 Here's an article on Baccarat by Andrew Scott, published in WGM – World Gaming Magazine (http://www.worldgamingmag.com/) – a prestigious magazine for people who love gaming.
Baccarat is both a very simple and a very complex game. It can be complex when you start talking about card squeezing techniques, trend following systems like the big road, the small road, big eye boy and the cockroach road, advanced tournament baccarat strategies, or when listening to some old Uncle's latest scheme for cleaning up at the game. We've covered all of the above (well, apart from the old Uncle) in previous issues of WGM. Just visit our website wgm8.com and select "Baccarat" under the "Gaming" menu. It's all there waiting for you.
In another sense, baccarat is a very simple game – banker or player. It's not far removed from a coin toss, except this coin toss doesn't pay even money on either side. Every baccarat player knows a winning bet on player pays even money, but when you win on banker, you only get paid $19 for every $20 you bet. Another way to think of it is even money less 5 percent commission.
No-One Likes the Commission
The dreaded 5 percent commission is a hassle for players, casinos and dealers alike, for three main reasons:
• Dealer errors. It is quite easy for dealers to make mistakes in calculating the correct payoffs, so the players and the supervisors need to watch the dealers carefully.
• Slowing the game. Calculating the commission and making payoffs often involves "smash" (chips of very small value), and is time-consuming, especially for inexperienced dealers. Players want to play more hands of baccarat, not wait for dealers to fiddle around with lots of chips of different colors.
• "Losing" when you win. Every single time a player wins on a banker bet, he has the negative feeling of "losing" 5 percent of his winnings, despite the fact he just won!
No Commission Baccarat is Born
Wouldn't it be great if we could simply do away with the commission? That's exactly what Mr Rakesh Wadhwa thought, way back in 1987 whilst operating a casino in Sri Lanka. And so the game of "No Commission Baccarat" (NCB), also known as "Non-Commission Baccarat", was born. Mr Wadhwa invented a game that simply eliminated all commission on banker bets! Obviously this gave a huge advantage to the players, so to redress the imbalance, the new game had a rule that if banker won with a total of precisely 6, the bet would only be paid at 1-2, that is the winnings would only be half of the amount bet.
Rather than taking a 5 percent commission on 100 percent of winning banker bets, the casino took a 50 percent "commission" on around 10 percent of winning banker bets.
These 50 percent banker wins (with a banker total of 6) occur about once in every 20 hands. The rest of the time, if you win on banker, you get paid even money just like you would on a winning player bet. No commission at all. If you play a short hit-and-run session and avoid the banker win on 6, you generally win more than you would have won if that same session were played on a traditional baccarat table, because you don't pay any commission on your winning banker bets.
While it is true the house advantage on NCB is a bit higher than traditional baccarat, it takes many days or even weeks of play for that difference to manifest itself with any significant degree of probability. For the short to medium-term player, playing just a day or two of baccarat, the difference in edge cannot be detected by the naked eye.
However, NCB has significant advantages over its traditional cousin that will be instantly obvious: more hands per hour, less mistakes, no smash to deal with, and most importantly of all, a full 100 percent payout on most winning banker bets.
The Spread of NCB Around the World
Mr Wadhwa first introduced his NCB to the Palm Beach casino in Sri Lanka in 1987. The NCB game was popular with Indian players who were customers of casinos in both Sri Lanka and Nepal, and the players insisted the game be spread in Nepal, which it was. NCB quickly grew in both countries until the traditional commission-style baccarat simply died out.
As luck would have it, Mr David Packer, a casino consultant working at the Casino Iguazu in Argentina travelled to Nepal in 1995 to do some work for the Malaysian gaming and lottery company, Berjaya. This involved visiting the casinos in Nepal, where the NCB game was already long established. Berjaya was also a partner in Casino Iguazu, which is how the game found its way to Argentina. Before long it had spread to The Conrad Casino in Punte del Este, Uruguay, which opened in 1997. This was through Brazilian players who played in Argentina and Uruguay, just as the game had spread from Sri Lanka to Nepal a decade earlier through Indian players who played in both countries.
In 1998, NCB made its way back over the Pacific Ocean. Mr David Hilton, then Vice President of Casino Operations at Conrad Jupiters, the casino on Australia's Gold Coast, had learnt of the NCB game as it was played in Punta Del Este, and Jupiters applied to government regulators to introduce the game.
Later that year, Jupiters' Casino Manager, Mr Andrew MacDonald, moved to Melbourne's Crown Casino, where he took on responsibility for table game development. He subsequently introduced NCB to Crown Casino, and it eventually spread to most Australian casinos. Mr MacDonald is now Chief Casino Officer for Las Vegas Sands Corporation, operator of the Venetian in Las Vegas and Marina Bay Sands in Singapore, and parent company of Sands China Limited, which operates the Venetian in Macau.
Mr MacDonald told World Gaming:
Non-Commission Baccarat truly revolutionized Baccarat to the extent that is has become the dominant form of mass market Baccarat where it has been introduced. It provided a relatively unique circumstance that satisfied both players and casino management. Players got a faster, more efficient game with less errors (and less hassles dealing with "smash") while management got a quicker game with a slightly higher house edge, which in combination increased revenues by 30 to 50 percent. A win-win situation.
In 2000, representatives from Genting Highlands casino (now Resorts World Genting) visited Crown in Melbourne and took several game concepts back to Malaysia, including NCB. Once at Genting Highlands, NCB then spread to Genting subsidiary company Star Cruises, a casino cruise company based in Hong Kong. It didn't take much of a leap to sail across the Pearl River Delta to Macau and then quickly around the rest of Asia. How ironic that the 4,000km journey from Sri Lanka to Macau would take a 32,000km detour via Argentina, Uruguay, Australia, Malaysia and Hong Kong!
NCB is widely available around Macau, so the next time you play, why not give the no commission version of the game a try?