Charles de Ganahl Koch succeeded to his father's modest oil company in 1967 – Rock Island Oil and Refining. In the subsequent three decades, he managed to turn the company into a large shiny coin that became known as the mighty Koch Industries. This was a trading company with diversified petroleum products, having an annual income of over $40 billion in 2014. It stands as the second-largest private company in America, which includes Flint Hills Refineries, Koch Minerals and Koch Ventures, under its wing. Charles Koch is widely known for his "Market-Based Management" philosophy of leadership, which is followed even in his company. Employees are urged to act and work like potential entrepreneurs within the sets of an organisation. Apart from being a successful businessman, he is amongst the most noteworthy contributors of the political libertarian principals. Charles Koch and his brother David Koch are examples of the new generation of billionaires. They are willing to spend enormous amounts of money to bring home the concept of free markets and politics to the younger generation.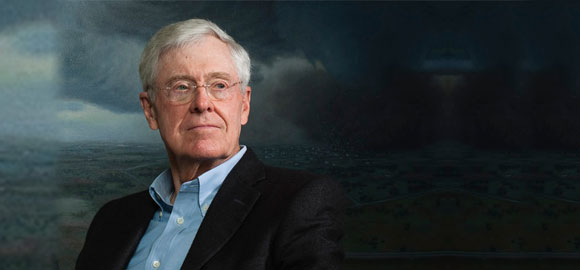 Early Life and Education
Born in Kansas, he continues to live there to date. He was one of the four sons of Mary and Fred Chase Koch. He showed promise of being a bright student at school, and got admission into the Massachusetts Institute of Technology, where he graduated in 1957 with a specialisation in general engineering as a part of his Bachelor of Science degree. He went on to receive his Masters of Science in both mechanical and chemical engineering in 1958 and 1960, respectively.
Professional Success
After his education, Koch started working at Arthur D Little, Inc. However, he was unable to continue and returned to Wichita in 1961 to work at his father's Rock Island Oil & Refining Company. In 1967, he took over the business and renamed it Koch Industries, honouring his father's work. The business rose to the billion dollar level and according to the Forbes' Top 400 list in 2014, Koch was worth approximately $41.3 billion.
Market-Based Management and Intellectual Views
Market-Based Management is the business philosophy that he follows to date. And Koch discusses it at length in his 2007 book, The Science of Success. He was motivated to write the book for his employees to give a "comprehensive picture" of the philosophy that was followed within the company.
In his view, Charles Koch is a libertarian. He has drawn great inspiration from American presidents like George Washington, Calvin Coolidge and Grover Cleveland. When the corporate welfare programme was introduced under President Bush, he strongly opposed it saying, "Overall concept is to minimize the role of government and to maximize the role of private economy and to maximize personal freedoms… We could be facing the greatest loss of liberty and prosperity since the 1930s."
Political and Philanthropic Contributions
As stated earlier, he advocates libertarian thought and has played a key role in the setting up of organisations like Cato Institute in 1977, in partnership with personalities like Murray Rothbard and Edward H Crane. Organisations like this follow his free-market ideology and aim to open the younger generation to the idea of such an economy. Koch is also a member of the board at Mercatus Center, which is a "think-tank" at George Mason University, motivated towards market research. In addition to funding numerous such "think-tanks," he has been encouraging libertarian academics since the early 1990s. The Charles G Koch Summer Fellow Program of the Institute for Humane Studies was initiated and funded by him, with the purpose of mentoring self-described young libertarians.