The Asian Tiger seems to be getting into the crouching position again. It seems to be moving further and further away from the Dragon. While her neighbour China continues to rule the roost, India has moved down from its prestigious position as the world's second fastest growing economy. According to the International Monetary Fund (IMF), India's growth in 2012 will be reported at 4.5%. This is disappointing, since we were all out to cheer for the country surpassing its larger neighbour in terms of economic growth.
Comparing India with Other ASEAN Nations
So, why did we slump from that position? Why did India fall below the other ASEAN nations, like Indonesia, the Philippines and, guess what, even Bangladesh!? Of course, the sheer size of this country makes comparison with other Asian nations difficult. However, India did witness some tailwinds through the year. While India was plagued with high interest rates, its exports contracted steadily through the year, exerting pressure on economic growth.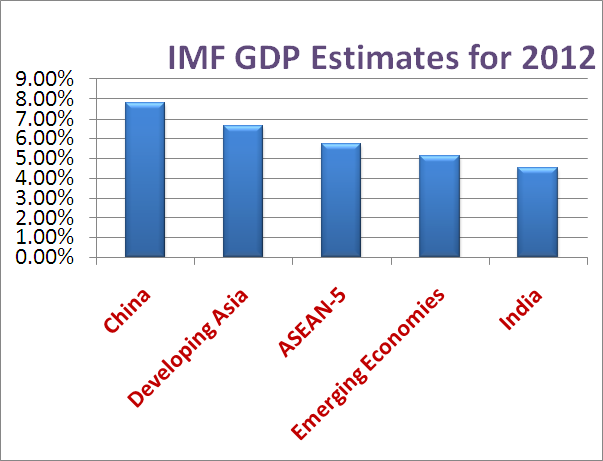 Growth in countries like Indonesia and the Philippines is likely to be strong on account of robust fundamentals, including an investment friendly environment, strong consumption trends, diversified exports, etc.
Why is India Trailing?
Think about it… India is rich in natural resources. On the other hand, Indians are highly capable to leverage these natural resources. Indians on an average are well endowed cranially. They are used to working hard. Many have entrepreneurial capabilities and dreams. Indians are well educated and enterprising. Moreover, India has a thriving private sector and its commercials are fuelled by private enterprise and private banks, rather than government-driven public enterprises (which epitomize inefficiency). So, we have all the ingredients for making a country successful. Yet, we are slipping.
This makes me think about governance. Are the political leaders steering the country towards becoming an economic power? Is that an objective for the government? I have heard people commenting that China's government has a strong hold over the economy, which is why it is emerging as a superpower. Does that mean that China's tight-fisted policies are better for the economy? One may be tempted to say "yes", but that is far from the truth. Although India may have much more liberty, the governance of the country has been inept at best.
Government Obstacles
In the recent months, the Indian government has imposed many more obstacles than previously to the country's private sector. Take for instance the Vodafone tax case. The deal was inked between two overseas investors. By imposing Colossal taxes on the telecom company, the Indian government would be discouraging foreign investments. India's enthusiasm to tax a company could prevent longer term benefits to the country… those accruing from foreign investments and economic growth.
And what about the struggle over FDIs (foreign direct investments) in retail? The government had initially indicated that it was in favour of FDIs in this segment. However, reeling under public pressure, the government decided to give in. Yes, there will be some imbalances caused by this. However, after the country readjusts to international multi-brand retail majors, there are efficiency gains to be reaped.
Let's have a look at foreign investment inflows into China and India. In 2011, China recorded an almost 10% jump in FDIs to a staggering $116 billion. India took long strides as well, with its FDIs surging 34% in 2011-2012 to a record $46.8 billion. You can get a more comprehensive view of FDI inflows into India in my article – Foreign Direct Investments in the Indian Economy .
So, it is not enough that the Indian economy has private enterprises. The government still needs to have clear direction and some predictability in its policy making. The government needs to strive a little harder to foster an environment that is friendly towards Indian and foreign businesses.