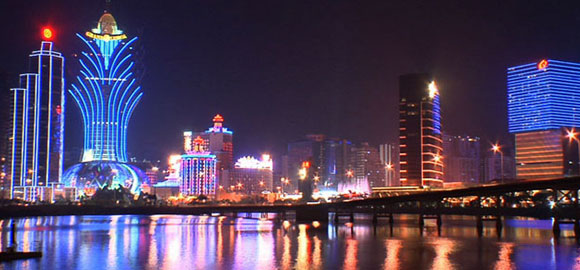 Macau casino revenues fell by 9.5% on a year-on-year basis in April 2016 to $2.2 billion, according to data from Macau's Gaming Inspection and Coordination Bureau. This marks the twenty-third consecutive month of declines. Macau's casinos have been in a downturn since mid-2014, with the beginning of a slowdown in the Chinese economy keeping the high rollers away. The industry's revenue has started to bottom out since last year with narrowing revenue declines. Casino operators such as Galaxy Entertainment Group Ltd, Wynn Macau Ltd and Melco Crown Entertainment Ltd are strategically focusing on the mass market segment of tourists and recreational gamblers, who are expected to make their upcoming new resorts profitable.
Monthly Revenues are Stabilizing and Bottoming Out
Union Gaming in Macau reports that the average daily turnover in April 2016 of $72.5 million was virtually the same as the average daily turnover in March 2016 of $72.8 million. According to an email following the April 2016 revenue numbers from Tim Craighead, a Bloomberg Intelligence analyst, "The casinos produced another reasonable monthly revenue performance in what is a seasonally slower shoulder month. It still looks to us that the business is stabilizing and the next big catalysts to watch for are the summer travel season and the new resorts from Wynn Macau and Sands China." In another sign that the industry may be bottoming out, Bloomberg Intelligence's Index of Macau gaming stocks rose 16% in the first quarter of 2016, following market capitalization losses of $46 billion last year from Macau's six gambling companies.
New Resorts in the Cotai Strip of Macau to Diversify their Businesses
The Macau government has encouraged casino operators to diversify their businesses, as per the city's five-year development plan. The government forecasts an increase in the proportion of casinos' non-gaming revenue to 9% by 2020 from 6.6% in 2014, as reported by Teledifusão de Macau. The Cotai Strip currently has about a dozen casino resorts. The new $4.1 billion Wynn Palace, slated to open in August this year, will offer air-conditioned cable car rides.
Sands China is expected to open its $2.7 billion Parisian Macau casino before the end of September this year. The casino has made provisions to focus on the non-gaming side of the business. The Parisian will feature a half-sized Eiffel Tower replica. Responding to the slowdown in business in Macau, Sheldon Adelson, the Sands China Chairman, said, "I don't see that this is going to be permanent. When we open the Parisian I'm completely confident, more than confident. Everything is cyclical — we've been in Macau for 12 years now, and there have been times over the 12 years that people thought that the business was going down, and then it's going to go up."
Adelson continues to remain confident that Macau's casino industry will turn around. He highlighted the fact that the number of mass market gamers coming to Macau has increased, which will result in an increase in non-gaming spending, since they have to spend on hotel rooms and food in Macau. Sands China has focused its effort on mass market gamblers in 2016, and has witnessed success; it has been able to increase its market share from 22.5% during the fourth quarter of 2015 to 23.3% in the first quarter of 2016.
Melco Crown Resorts' Studio City Indicates the Future for Macau's Casinos
Melco Crown Resorts opened its $3.2 billion Studio City resort in Macau in October 2015. Studio City has 1,600 guest rooms in two towers, one built for high-end customers, and one to attract the mass market segment of tourists. Studio City also has three separate theatres running magic shows, an interactive amusement ride known as Batman Dark Flight, the Pacha Macau night club, a huge event center with 5,000-seat capacity, and a 40,000-square foot arcade and playground for kids. These are all designed to attract a wide range of customers, from high rollers to mass market gamblers to middle-class families on vacation.