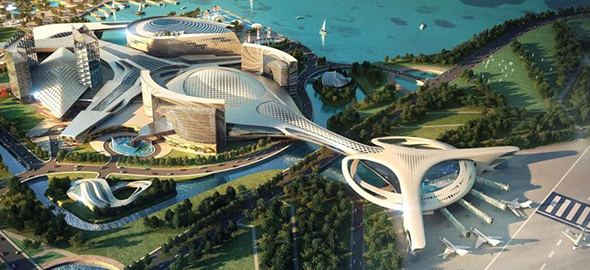 The Mohegan Tribal Gaming Authority, along with KCC Corp, a South Korean chemicals manufacturer, won a bid to develop the Inspire Integrated Resort at Incheon, located west of Seoul, the capital city of South Korea. The Inspire Integrated Resort will be a business and leisure tourism complex; it will include a casino, a luxury hotel, shopping areas, an amusement park, a Korean pop entertainment arena and convention venues. The Inspire Integrated Resort is one of three new casinos slated to open in 2020 in the Incheon island of Yeongjong. The other two projects are Paradise City, a joint venture between the Korean casino firm Paradise Group and the Japanese entertainment firm Sammy Holdings, expected to open in 2017, and LIPPO & Caesars (LOCZ), a joint consortium between Las Vegas firm Caesars Entertainment and Indonesian property developer LIPPO Group, expected to open in 2018.
South Korea is Awarding Licenses for Casinos to Boost Tourism
South Korea's government vowed to bring more than 25 million won into the country in the form of foreign investment to build the tourism industry and enhance corporate competitiveness. According to the Ministry of Sports, Culture and Tourism, the Inspire Integrated Resort is expected to boost the nation's tourism industry by attracting foreign tourists. The proposed resort is near the airport in Incheon, and not too far from the capital city of Seoul either.
Foreign investors are flocking to develop South Korea's casino industry due to several factors. Firstly, South Korea is closer to northern China as compared to Macau. In fact, Chinese tourists to South Korea grew 42% in 2015 to 6.1 million, while the total number of tourists grew by 8% to 16.1 million during the same period. The spread of Korean popular culture across Asia, in the form of soap operas and Korean pop (K-pop) bands, has helped drive tourism. The other factor making South Korea attractive is the lack of progress on the legalization of the casino industry in Japan.
Impact of the Casino Industry on the Local Economy
The size of South Korea's domestic casino market is expected to grow significantly to 10 trillion won around 2020 when Inspire opens. The 17 casinos that were open to foreigners only are worth 1.3 trillion won as of 2014. When Paradise City, LOCZ and Inspire begin operations, casino-related tourism revenues are expected to increase by a huge ten-fold amount. After all, these integrated resorts have the benefit of being as close as they can possibly be to the international airport at Incheon, and offering a full menu of entertainment options to the entire family. In addition, each integrated resort is expected to lead to the creation of 9,000 to 12,000 new jobs.
South Korea's Casino Industry is not for Locals
There are 17 casinos in South Korea, which will go up to 20 by 2020. Of these, only one is open to local South Koreans, Kangwon Land. The monopoly of the government-run Kangwon Land on local players is due to hold until 2025, under a political concession made to the economically depressed former mining area. Currently, analysts don't expect a change in policy towards local gaming, given the nation's socially conservative culture. This is a pity; Kangwon Land was the best performing casino in Asia, making "open casinos" a potentially huge business opportunity.
The three new casinos that are expected to be in operation starting from 2017 will bring a surge of tourists to the country. The casino industry will see a boom if laws are eased on gambling by the locals.