When you hear the name Wynn, you think Wynn Resorts, Wynn Macau, Wynn Las Vegas.But who is behind all of these? Stephen "Steve" Alan Weinberg, an entrepreneur with a net worth of $4 billion, 428th richest man in the world as of June 2014. Steve Wynn, as he is commonly known, was ranked 17th on the Harvard Business Review's of 100 best-performing CEOs in the world in November 2014. He is best known for his pivotal role in the 1990s resurgence and expansion of the Las Vegas strip, and the creation of several new resorts in Las Vegas and Macau as the Chairman and CEO of Wynn Resorts Ltd.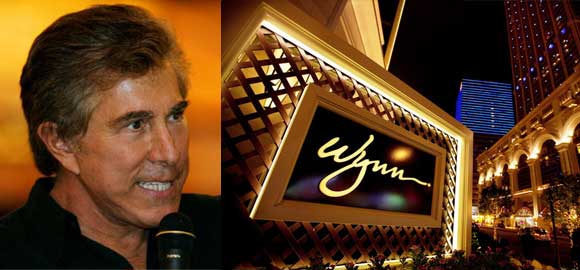 Steve's Beginnings
Steve was born in 1942 in New Haven, Connecticut. His father changed the surname "Weinburg" to Wynn in 1946 to avoid anti-Jewish discrimination. He attended a private boys' school called The Manilaus School and graduated from the University of Pennsylvania, where he studied cultural anthropology and English literature.
Wynn began his career by taking over his father's bingo operation in Maryland, following his father's death in 1963. He invested his profits in a small stake in the Frontier Hotel and Casino in Las Vegas, and this marked the beginning of his casino business. He made a land deal in 1971 with Howard Hughes and Caesars Palace, and parlayed the profits into the landmark casino, Golden Nugget Las Vegas. Wynn was able to revamp, renovate and extend the gambling hall into a big resort hotel and casino, which became very successful.
The Las Vegas Strip and Biloxi, Mississippi
Wynn began to acquire stakes in various casinos on the Strip. His first big project was the Mirage, where he created a most luxurious hotel and casino. He incorporated themes such as an erupting volcano and a South Seas theme, things never seen before. The Mirage ignited a $12 billion building boom on the Strip. His second high-end casino, The Bellagio, included an artificial lake and a gallery that housed museum-quality artworks. It was the most expensive hotel in the world when built. The Bellagio marked the transformation of Las Vegas into a luxury destination for wealthy travelers in the 1990s. Wynn also built Wynn Las Vegas in 2005 and Encore Las Vegas in 2008.
In 1999, Wynn brought Mirage Resorts' style to Biloxi, Mississippi, where he oversaw the construction of the 1,835-room Beau Rivage, which he built in the Mediterranean style. This marked the start of a building boom that cemented Biloxi's position as a regional tourism center along the Mississippi Gulf Coast.
Macau
Wynn successfully bid for one of three available gaming concessions that were opened for tender in Macau, a Special Administrative Region of China. Wynn Macau opened on September 5, 2006. Wynn Macau has over 265,000 square feet of casino space, and two luxury towers with approximately 1,000 rooms and luxury suites.
Steve Wynn added Encore Macau to his collection of resorts in 2010. His latest project is a $4.1 billion resort in Macau's Cotai Strip. Wynn's properties in Macau are currently seeing a drop in revenues due to various visa restrictions and stricter anti-corruption regulations in China, but they are expected to continue to bring revenue, given Macau's proximity to China and its status as the sole territory of China where gambling is allowed.
Accolades for Wynn
Steve Wynn's success has earned him a lot of accolades. In 2006, Wynn was inducted into the American Gaming Association Hall of Fame. He has received honorary doctorates from the University of Pennsylvania and four other institutes in recognition of his transformative vision of Las Vegas. Forbes magazine named him a "Captain of Capitalism" in 2007.
In 2009, he received the Manfred Steinfeld Humanitarian Award at the 22nd Annual Platinum Circle Awards. In March 2011, Barron's named Steve Wynn one of the 30 "World's Best CEOs." At the same time, Fortune recognized Wynn Resorts as one of the "World's Most Admired Companies." Wynn Resorts was the only Nevada company on Fortune Magazine's "List of 100 Fastest-Growing Companies" published in September 2012.